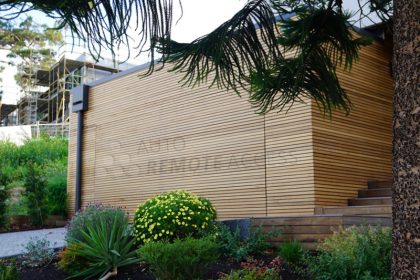 A new garage door can change the look of your property, whether you are renovating a recently purchased property, building from scratch, or occupying a home you have lived in for years.
What are Flush Mount Garage Doors?
Flush mount garage doors are the ultimate finishing touch for your home if you like a luxurious look. Flush mount garage doors provide a seamless look and effortless functionality. Your door can be finished with a blended face facade, giving your home a modern and unique flair.
This seamless solution was manufactured as an alternative to tilt and counterweight systems. The tilt-up system limits the cladding material used as it cannot withstand the heavy load of most materials, and the counterweight option is prohibitively expensive for most.
Flush garage doors are a popular choice for new homes, renovation projects, commercial properties and multi-family dwellings. They add an architectural finish to your property and provide that all-important "wow factor".
A key benefit of flush mount garage doors is that they can withstand a weight of up to 320kg. This makes them an ideal alternative to overhead garage doors, which can only withstand very light cladding. The alternative has been a counterweight, but this can prove costly. Therefore, flush mount garage doors are a perfect solution that is affordable and has a high weight resistance.
What are the benefits of a Flush Mount Garage Door?
Flush mount garage doors can withstand a total weight of up to 320 kg.
Flush mount garage doors can be clad with any material.
Beautiful seamless integration with a hidden garage look for an elegant aesthetic.
Sturdy extruded aluminum frame.
Heavy-duty hinges.
Easy to maintain
At Araccess, we can colour match your garage door to your home's current or planned colour palette. Take a look at some of our recent projects to get an idea of what a flush mount garage door could look like in your home.
Still undecided or unsure what would work for your house? Get in touch with us to schedule a personal consultation to discuss your needs.