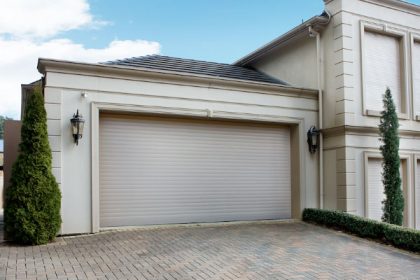 It can be very inconvenient and annoying when your garage door doesn't work properly.
There are many reasons for Why Your Garage Door Isn't Working.
Sometimes it would be the best option to leave the garage door repair up to the professionals. However, there are times you may be able to fix the problem yourself.
Knowing what's wrong with your garage door may help you to decide if it is a problem you can tackle or it's time to call someone for assistance.
Here are the top 10 reasons your garage door doesn't work correctly:
1. Transmitter Batteries are dead:
If you haven't replaced the batteries recently, then this is where to start. It sounds ridiculous, but people still forget to check the batteries in their remotes or transmitters. Make sure that when changing batteries, you change them in all transmitters, because they were probably installed around the same time.
2- Issues with your transmitters:
If your garage door opens and closes randomly, there are two reasons, first, make sure your transmitter isn't stuck under something that could be pressing on the button.
If that's not the case, you may also need to check your transmitter's frequency.
Your neighbors could be running their garage door on the same frequency as yours, which can cause your door to open along with theirs.
3- Your photo-eye is out of alignment:
If you notice your door opens normally but won't make an attempt to close properly, inspect your photo eyes.
it could be that the photo-eye sensor is dirty or out of alignment.
There are photo eyes on both sides of your garage door.
They transmit an invisible beam between one another that detects if anything is in the path of your garage door when it closes.
Once you clean them and it still isn't closing, it could be because they aren't aligned correctly. Make sure to put them at the same height and adjust their angles to match.
4- Track is out of alignment:
If your garage door makes a rubbing noise or slows down when it reaches a particular spot, it shows that your garage door isn't properly aligned on its track. You might also be able to spot gaps between the rollers and the actual rail or bends in the rail itself, which means your garage door won't open or close properly. It can be a serious issue and can eventually become dangerous if you don't fix it right now, so call for help.
5- Broken torsion spring
If your garage door simply won't open, it is probably because of a broken torsion spring. Torsion springs do all the heavy lifting, and will eventually wear out or break.
In this case, you should call a professional for service. Do not attempt to fix this yourself or try to open the door. The springs will need replacing and can be dangerous to leave it to the experts.
6- Something is blocking the path:
If you find your garage door closes part way then goes back up, it could be because something is blocking the door's path on the ground, such as garbage cans or toys, another reason for this could include a build-up of debris on the tracks, which prevents the rollers from moving forward, so check to ensure that debris, garbage cans, toys or anything else is not preventing the door from shutting.
7- Door limit settings:
Sometimes, you'll notice that your garage door closes all the way and then immediately goes back up instead of staying in the closed position. If this happens, the most likely reason is the open and close limit settings of your garage door opener.  Check your operator's manual for how to set the open and close limits.
If you find that adjusting the limit settings isn't working, it is time to call a technician to come and fix it.
8- Someone enabled the disconnect switch:
If it sounds like your operator is running but your door isn't moving, chances are the disconnect switch has been enabled. Every garage door opener comes with a disconnect switch in case of a power cut. This allows you to open or close the door manually. This switch is usually attached to a rope or knob that can be accidentally unhooked. You may need to refer to the manual to see how to do this, and how to attach it again.
9- The door lock is set:
If the door runs for a few seconds then stops, first check the springs otherwise, check the track for obstacles. If neither of these issues exists, then check to see if your door is manually locked. A manual lock is often in the middle of your door. To unlock the door, simply turn the handle until you hear a clicking sound.
10- The cables have broken:
If your garage door closes very quickly, then you might have a broken spring or cable. If you notice your cables have broken, call a professional to come and repair them as soon as possible. It can be dangerous to handle the cables and springs of garage doors.
We at Araaccess can help you with a free quote for your garage door.