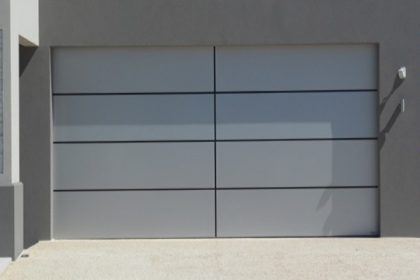 A garage space is so much more than just a place to park your car in. Looking back at the history of garage doors includes an extended line of adaptations, innovations and learning curves. From this, it has enables today's homes and owners a larger range of options from designs to technologies when deciding on the perfect door. So don't settle for a door that you do not love, at Araccess we are able to create the perfect door for you and your home.
Whether it may be that you are constructing a new home or simply renovating an existing property, the garage door type can help change the whole look and feel of the house. As times have progressed custom garage doors are lightweight, quiet and completely finger safe.
By have a more contemporary design custom garage door is can provide a softer appeal to industrial design. As this new trend is arising it combines natural accents with modern materials creating the perfect natural look.
A designer door doesn't just simply look fantastic, but it can also increase significant value to you home. It can give you something unique for people to talk about. The greatness of a custom made garage door in Melbourne is that the finishes can be adjusted to complement your home.
At Araccess we are also very familiar with harsher environments near your local beached. Under these circumstances we recommend a timber or aluminum surface which can allow your garage door to last longer in the salty environments. Despite custom designed door looking pricey, these garage doors can be created to suit any home, style and budget. Meaning that there is no reason for you to choose a simple mainstream door over a both attractive and unique design.
With low maintenance custom products it can make your imagination run wild. This is a perfect option when you are seeking a personalized garage door for you home. These doors can be manufactured using your own specifications. Custom garage doors come in extensive varieties in a range of materials and colors which can elevate the look of your home. Some features that we have on offer include inserts such as mini orb sheeting, orb, Perspex, polycarbonate, timber, aluminum and grills.
These custom garage doors can also be produced in any Colorbond range including zinc sheeting or a timber look depending on what you desire. With three simple steps you can have your garage door completed designed through to installation.
Step one: Select a style
Step two: Pick a color
Step three: Choose your material
ARA can assure that we can do it all, and you can be trusted that we pay attention to every detail to make your residential garage door the perfect suit for your home. If you have an idea in mind, let ARA bring it to life!