About Us
Automatic Remote Access is the leading installer of automatic garage doors in Melbourne with 7 year warranty on electric & remote garage door openers. We have been providing excellent services to the Melbourne metropolitan for over 10 years and we have no intention of stopping.
We put your satisfaction first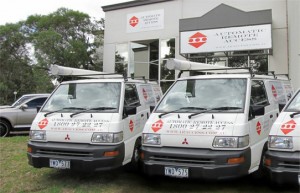 Our company-trained and uniformed team of professional gate/garage door installers will supply, install, maintain and service your roller door, sectional door, tilt door or gate Automation System.
ARA staff has all been trained and police checked prior to commencing employment giving you a peace of mind.
OUR AIM is to take all your worries out of accessing your premises, safely, securely and with ease.
We are certainly SETTING THE STANDARD, being the first company in Australia to provide our customers with a whopping SEVEN year warranty on all garage door openers! We are continuously improving and thoroughly testing all products to ensure they stand the test of time and reliability prior to delivery and garage door installation in Melbourne.
Why Choose Us
SOLUTIONS
Automatic Remote Access has a range of products that can be supplied to best work for you. We continue to develop and improve our products to ensure that they provide the best possible solutions.
SERVICE
We are a proud Australian company and thanks to our onshore quality control facilities, we have the ability to develop and test new products onsite. Quality is integral to our products, including the ability to deliver products on time and on budget.
QUALITY
Automatic Remote Access's proven performance is demonstrated by our partnerships with many of the largest engineering and construction companies responsible for high quality projects across Australia. We only use quality materials and manufacture to recognized standards.
MADE TO ORDER
Automatic Remote Access can assist with the innovation, design and manufacture for site-specific applications and provide the technical assistance and expertise required to ensure the most cost effective product solutions.
The ARA Team
We recognize, support and harness the diverse talents of our people. We care, respect and invest in our people and are committed to their well being.
Safety
It is foremost in everything we do
Relationships
That create value for all stakeholders. We shape sustainable outcomes that align to the needs and aspirations of our people, customers, partners and the community.
Performance
We hold ourselves accountable to deliver exceptional performance. We are dedicated, professional and passionate. We reward and celebrate success in garage door installation and automation in Melbourne. Our commitment to always meet or exceed our customer's expectations sets us apart.
Integrity
We build trust by doing what we say we will do. We are open and honest and respect the value of others. We place great value on personal and technical credibility.
Our History
The directors established Automatic Remote Access in 2011. It is a pioneer business in the automation industry.
The company has plans to continually grow over the years and develop into an integrated home automation product manufacturing business, with a complementary intelligent software business.
Reasonable as well as flexible prices are another advantage of being associated with us. Depending on the size as well as nature of the service required, the prices may vary largely. All together, we make it a point to ensure that the prices of our products do not burn a hole in the pockets of our customers. This means that affordable prices are now available along with satisfactory services as well.
In those days, garages had thick wooden doors or metal doors which were quite difficult to open and close every time one needs to open or close them. However, with the latest technology, the doors can be operated by a remote control. Doesn't that sound great? You need not push and pull the doors and waste your energy and time; besides, you don't have to worry that a burglar would break in easily. Remote control door openers are available for any kind of door, be it sectional garage door, roller door, panel door, sliding gate or swing gate.
The remote control system consists of a garage door motor and a remote control. When the remote control is operated, the garage door motor runs and the door opens or closes automatically. Garage Door Motors are available in various forms like swing gate motors, roller door motors, panel door motors and the like depending upon the type of garage door. With the help of roller door openers, you can operate the roller door motors and eventually the garage roller door opens.
Choose the best company for garage door installation Melbourne
Automatic Remote Access has developed its facilities beyond that of a typical garage door installation Melbourne business, with the development of its branded product range and the first 7 year guarantee on all its products.
Another area where we specialize is the repair and up gradation of various products. These include the repair of door locks, motors and barriers. Depending on the type of system used, up gradation services are also provided to all the clients. So next time you feel the need for any of the above mentioned services, remember that we are just a phone call away.
Where We Operate
HEAD OFFICE
(Sales and Distribution)
14 Mason Drive
Braeside VIC 3195
Careers
If you are an energetic, fun, vibrant person, and would like to join our team just contact us by phone or email for a confidential chat. You can also keep your eye on new positions as they are posted on our website
We offer a wide horizon of career opportunities to people who are looking for a new start with an industry leader.