Actuator Driven Swing Gate Opener
ARA SW850, this automatic gate opener can open 2 door gates, with an automatic reverse function, assures safety when a gate encounter an obstacle at opening or closing.
Lowest Prices Guaranteed
100% Satisfaction Guaranteed
Our Swing Gate Openers, are designed and manufactured exclusively for us under our strict guidelines and quality assurance standards.
Features include: direct drive mechanism, soft start/stop function, auto close mode, low standby power usage, quiet motor, compact size and easy to use interface.
Standard safety features include: Anti collision safety sensor, automatic force sensor and manual disengagement.
All the remote controls sold by ARA have revolving digital codes with over 1 billion combination possibilities for your peace of mind.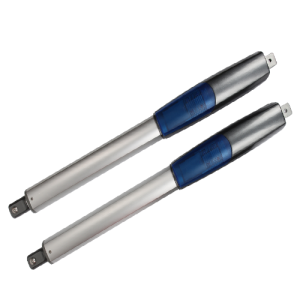 SW850
Ideal for all Swing Gates
Designed in Australia, this stylish unit is packed with features. Equipped with a Heavy Duty DC opener motor can effortlessly open up gates weighing up to 300kg and up to 2.1m (7feet) when installed properly. This is extremely powerful.
Features
Easy Interface Feature
No complicated controls or buttons with this unit. Its super easy to operate while providing you with added security and protection with its simple keypad and single button interface.
Soft Start/Soft Stop Function
Accelerating and reducing speed at the beginning and end of the cycle significantly reduces stress to gate opener, increasing life and ensures quiet door operation.
Auto – Close Mode
Automatically closes the door after 0-90 seconds after a car has passed through. It is adjustable by the user.
Quiet DC motor
Our DC motors offer as much power as the older AC Motors but with reduced noise and vibration. Offering smooth and reliable operation without the noise.
Low Standby Power Usage
As one of the lowest standby power consumption units in Australia. The SW850 is mindful of the environment while reducing your energy bills.
Extra Safety Features
Anti-obstruction Safety Sensors
If the door meet an obstruction during closing, it will stop and reverse about 15cm~20cm.
Manual Disengagement
Allows you to open and close your garage door manually in the event of power failure.
Automatic Force Sensor
Enables the unit to monitor and adjust the force required to open your garage door for each operation.
Specifications
Driving method: screw driven piston type
Operating voltage: DC24V for normal speed, DC12V for cushioning speed
Max output power: 80W per driver
Max piston stroke: 30cm
Max piston speed: 3 cm/sec
Operating cycle: 10 second per 90 (approx)
Max single-leaf weight: 300kg per wing
Max single-leaf length: 2.1m (7feet)
DSPS device: electronic timing tracker
Gearbox: planetary gear
Safety clutch: Electronic current sensing
Safety barrier: infrared sensor (optional)
Main supply: AC110V/ 220V, 60Hz/ 50Hz
Electronic controller: Microcomputer-based
Remote controller: UHF Digital PWM type
Temperature: -20 to +80C
Protection Class: IP54