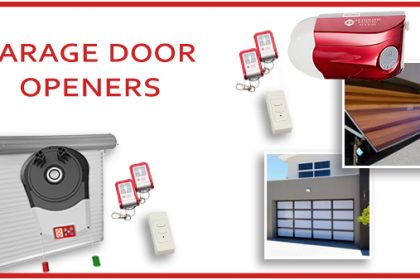 In modern living and convenience, Automatic Remote Access garage door openers and motors are best to replace your current conventional system. The garage door openers are an easy and convenient way of opening and closing doors of garage. Since these come with remote control access they can be operated while in car and saves your time and help in case of adverse weather conditions. These are very simple to be operated efficiently even by child or elderly people. The various door opener and motor options are explored below.
Variety of Garage door openers such as Roller Door Openers, Panel Door Openers, Tilt Door Openers, Gate Openers and Residential roller doors of all types and sizes are also available. Garage doors suit all openings and styles of architecture of your home.
Roller Door Opener will suit most rolling garage doors.  These door openers are very compact, slim and fit into a tight spot. All the remote controls have digital codes which provide adequate security options. The Ultimate Universal Opener is ideal for all Roller Garage Doors. They have safety features such as automatic force sensor, manual operation in case of power failure and anti collision safety sensor.
Roller door motor is quiet & and operates quickly. Roller door motors include smooth start stop operation, auto close mode, door service monitor, low standby motor power usage, courtesy lighting, led lighting for easy operation during night.
Sliding Gate Openers are single gate, mounted on a track which can be easily opened and closed by sliding it backward and forward. Automatic Swinging Gate Openers swings  through a 90 degree angle. This type of gate is suitable for loose and uneven surfaces.
Choosing your Garage Door Motors online:
You can buy and choose your garage door openers online. There is variety of options available. Interactive door designer program helps to determine the style and color of Garage Door. These door openers motors come with manufacturer's warranty along with installation warranty and are affordable with many discounts and offers.