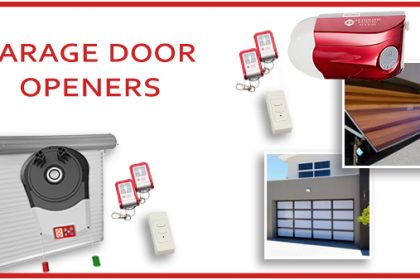 Roller garage door openers are the most diverse types of garage doors, especially in terms of positioning of their installation. A Roller Door Opener can be installed on almost any size and shape of garage door, all with some careful planning. Automatic Remote Access is a reliable Australia based company dealing in different types of garage doors and Garage Door Openers. In order to ensure that you choose the right roller door opener for your garage, it is important to think carefully about how you want to control your door. Also give attention to other aspects of installation such as:
Whether you want an automated roller door opener, or a manually operated one
How you will operate an automatic roller door opener in case of power failure
Does your garage have the right over-ride system, and how it locks
Do you need added security against intruders
Do you want a remote controlled roller door opener
Is your garage door insulated
Are you interested in additional features, such as lights switched on or off whenever the door opens or closes, and the door operated with your smart phone
Benefits of installing roller garage door openers
These doors have a rubber seal in the bottom which helps in preventing dust, mice, leaves etc. to enter your garage. An automatic roller door opener allows you to open or close your garage door with just a push of button. Vertical operation system of a roller garage door is ideal for garages with little space, as there is no swing at all outwards. This means that you can park your vehicle right up to the door and still operate it conveniently. In order to suit well with your décor and home style, roller garage doors are available in a variety of designs, styles, colors and patterns.
A roller door opener is ideal for an arched garage opening, maximizing the drive through height and width. It can be fitted on double, triple and multiple garages with multi-channel remote controlled system too, making it easy to use.
So, if you are looking for a high performing, stylish, and durable roller door opener, then buy the one from Automatic Remote Access only.