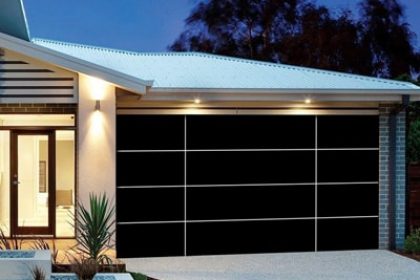 Are you looking for garage doors? Then you have come to the right place. If you are thinking about replacing your garage door, there are several options to choose from.
At Araccess, we have put together comprehensive guides to the different materials and styles.
In this article, we compare the main differences between steel and aluminum garage doors.
Your garage door should not just look good, it needs to work.
Garage doors play a vital role in securing our homes. They also protect the interior from the elements and help insulate heat and cold. Therefore, choosing the right material to meet the needs of your home is of utmost importance.
Materials – Steel Garage Doors vs. Aluminum
Steel Garage Doors – Steel is an alloy of iron and carbon and rightly has a reputation for durability. This means that steel garage doors offer the proven longevity you expect. However, there are a few things you should be aware of when using steel as a garage door material.
First, steel can dent, which is something that should be taken into consideration for heavily used garages. Steel is also known for its susceptibility to rust. Scratches on the door need to be fixed as soon as possible to slow down and end the oxidation of the steel.
Poor maintenance can cause the door to rust easily, but steel garage doors still provide excellent protection for your home. Steel garage doors are the safest among wood, aluminum, and fiberglass doors. If your house needs a reliable barrier, steel is the greatest choice.
Not only is steel very secure, but it is also heavy. This weight requires an automatic door opener to operate the doors safely.
Aluminum Garage Doors – As a constructing material, aluminum is lightweight, durable, and requires little care. Aluminum is a water-resistant section, although saltwater can cause corrosion. For most homeowners, this is not a problem. It's clear that sometimes it will rain – and that freshwater is harmless to aluminum.
What material should I select for my garage door?
Your garage door is an important decision to ensure the beauty and safety of your home.
Choosing between a steel garage door and an aluminum door mostly depends on the homeowner's preferences and budget.
Start by narrowing down the most vital features your house needs.
Are you interested in the most cost-effective options on the market? Or do you value durability and safety more than anything else?
Contact Araccess
Want to learn more about your garage door options? We'd love to help you decide if steel or aluminum is right for your home.
Browse our garage door catalog, or schedule an appointment with our team!