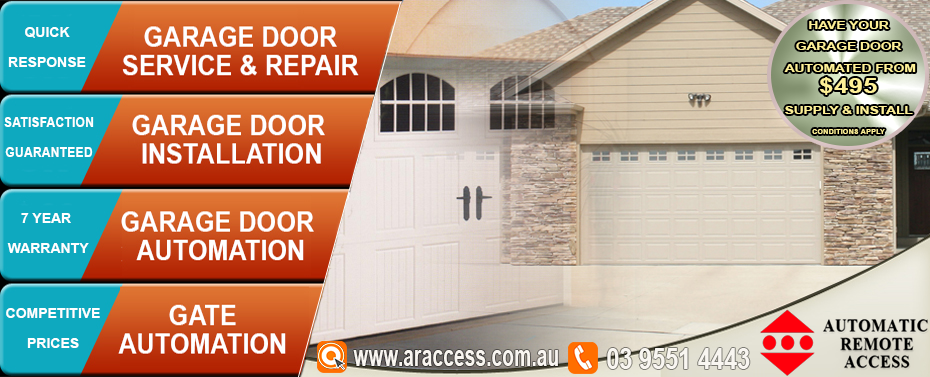 Garage Doors Springvale
Automatic Remote Access is a garage door and gate specialist for roller door & sectional garage door installation, automation, repairs & service near Springvale with over 10 years experience in residential garage door industry.
We are one of the biggest supplier of gate automation system near Springvale that provide you with sliding gate opener and swing gate openers with the best quality.
We provide you with the Wide range of colors & styles to suit your homes. Contact us for a free measure & quote today.
Automatic Garage Door Openers
Automatic Remote Access can ensure you to get the correct garage door operator for your garage door near Springvale, either new or existing. Call us with as much details from your existing garage door as possible to obtain the best price on a suitable Garage door operator.
We supply and install automatic garage door openers for all types of garage doors and only high quality products as we feel the installation should only be carried out once and then operate perfectly every time for years of trouble free operation.
There are a lot of cheap, noisy, non-compliant electric operators available in Australia. through various sources but buyers should be very aware of what you may be purchasing as it may well be illegal or even dangerous especially if incorrectly specified for your garage door type. The garage door motor should ideally be tested and certified to operate with the garage door it is fitting to.
For any garage door, garage door automation, gate automation inquiry in Springvale please call us directly on 03 9551 4443.
Automatic Remote Access is part a group of long established building products supply companies specializing in garage doors, garage door automation and gate automation. We cover the entire Clayton area and surroundings.