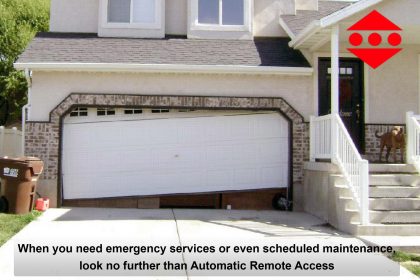 The saying, "If it is not broken, do not fix it", holds very true when it relates to your garage door. If it functions sufficiently and you are finding yourself happy with the way the door is working – there should be no reason to replace or update it.
For some further insight, an average garage door can last anywhere between 10 to 25 years. But as the door may age you may begin noticing structural weaknesses or damages. Examples such as weak or damaged springs, loud grinding noises, slow or jerky opening and closing, faulty or weakened structural integrity such as sagging or rust and discoloration are major signs that your garage door may need to be replaced. Although repairs can be conducted, costs can quickly add up making it worth your money to invest in purchasing a new door instead.
By observing your garage door in function while you are using it, it can enable you to have a greater understanding of the quality and wear on your door. In many cases we find that the older your garage door, the harder it can be to seek replacement parts. This can drive the price of repairs to be significantly more expensive or eliminate the option of repairs altogether. In some cases age is not the result of garage door damage so then the cost of the repair is a good deciding factor. While most standard garage door repairs are generally cost-effective, there are some instances where replacing your garage door can be viewed as a better alternative.
To put it in perspective, if there two or more panels which are warped or damaged on your residential garage door you will find that you are be better off replacing the entire panel door in lieu of replacing the individual sections. An explanation of this can be that the replacement panels will not have a consistent colour when fully installed as discoloration can occur as any garage door ages. Secondly, the existing panels can be quite costly and can almost exceed the cost of purchasing a whole new door altogether.
Many homeowners are unaware of the fact that if the garage door is not balanced or worn out it can put large amounts of strain on the garage door opener. This means that the unit is forced to work harder which sacrifices the extended life of the motor. Not only does it put pressure on the motor but it also allows for more errors to occur as the door operates. This relay effect can also cause all the door hardware such as cables and springs to be put under stress.
By keeping your garage door moving freely and smoothly it can add many years of consistent operations. This is an easy process and only takes minutes, depending on the type of door you have you can simply lubricate your door coating all moving parts. It is important to keep in mind that although springs, bolts and screws can be seen as insignificant, they can play an important part in keeping the garage door safe and durable.
Taking into consideration all that has been said we want leave you with a final thought.
We all know that fixing things by yourself can be great as there are many benefits such as saving both time and money as well as enhancing our skills. But, if you find yourself to be in doubt, you should not hesitate to call a professional garage door repair company who can find the best solution for you. They can enable you to have a professional diagnosis and repair your garage door without sacrificing any quality. It is a better option to choose a company to complete work which you are uncertain of rather than risking injury or making any problems worse. If these circumstances occur then eventually it will cost you more then you may have originally thought.