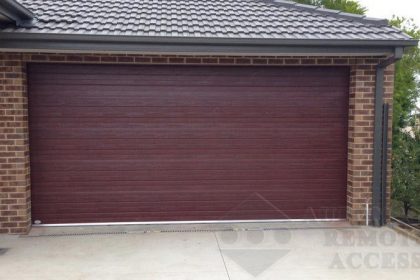 So, you have decided to install a new timber garage door. That's a great choice! A natural wood finish is sure to add a touch of class to your house. And since it is a new garage door, it will come with all the modern features. It will be great.
Before you make the investment, however, you should take some time to consider your options. Most importantly, whether you should choose a timber or timber-look garage door. Both timber and timber-look garage doors offer a number of unique benefits. Depending on your situation and your garage door needs, one or the other may be the more practical or even cost-effective garage door solution.
Timber-look garage doors are low maintenance.
As the name implies, timber-look garage doors look just like timber doors. However, unlike timber doors, they are made of synthetic materials and metal. For example, the Gliderol Native Series of timber-look garage doors are made of sturdy Color bond® steel.
The use of Color bond® steel has several distinct advantages over timber. For many, the biggest advantage is that Color bond® steel requires very little maintenance, unlike wood. It is strong and durable and does not need to be resealed or maintained.
Timber Garage Doors is made from real wood
Timber-look garage doors look great. However, for some homeowners, there is simply no substitute for the natural look and feel of real timber.
Modern timber garage doors feature a sturdy, solid frame made of red cedar. The wood paneling (also made of red cedar) is available in fully sealed colors: walnut, jarrah (rosewood), ebony, dark oak (hemlock), and clear. As well as in oiled colors: sela brown, black ash and clear oil.
Timber look garage doors are often more cost-effective
One of the benefits of using alternative materials like Color bond® steel is that it often lowers production costs. Lower production costs mean a lower retail price for you, the consumer.
Timber-look cladding can also be applied to a variety of garage doors. If you are looking for an affordable solution for your garage door, consider adding timber look cladding to a door from the B&D Panelift range.
Timber doors can be re-stained to freshen up the look of your home
Do you want to freshen up the look of your home from time to time? The great thing about timber garage doors is that you can give your door a new look if you choose to. Opt for a timber garage door from Danmar Cedar Panel, and when it's time to repaint your door (usually after a few years), simply choose a fresh new paint job.
Wood-look garage doors are resistant to termites and rot
Since there is no timber for termites to tamper with, timber-look garage doors are completely termite resistant. Timber-look doors will not rot, warp, or splinter. They are also usually made of non-combustible materials.
Because timber-look garage doors are made of durable and long-lasting materials, they often only need to be washed with soap and water occasionally and, like all doors, require annual maintenance.
Timber gates are made from sustainable materials
Red cedar is widely recognized as one of the best and most sustainable building products. It requires less energy to manufacture, which means fewer greenhouse gasses and less water and air pollution. Red cedar is also a renewable and sustainable resource. Red cedar wood doors include doors in the Danmar Raised Panel, Louvre Panel and Classic Panel series.

Whatever you choose, your new garage door is sure to please. To learn more about timber and timber-look garage doors, get in touch with us at Araccess to help you choose from our flawless selection of garage doors.