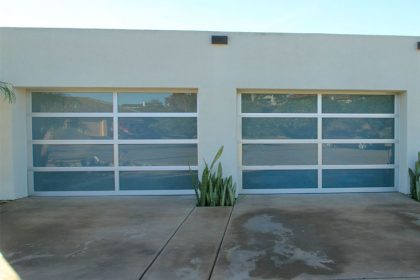 If you want to have a custom garage door made for your garage, keep reading this article.
There are four types of custom garage doors available
Here is the information you need to choose a custom garage door
Alucobond Garage Door
ALUCOBOND® is a composite panel consisting of two aluminum face sheets and a fire retardant or non-combustible mineral-filled core. The excellent properties of this material inspire and offer constructors and designers a whole new range of solutions.
Aluminum Garage Doors
Aluminum is often a good choice due to its low density and corrosion resistance. This makes it a reliable, valuable and practical material for use in buildings and structures.
Aluminum Roller Garage Doors
Aluminum roll-up garage doors are a convenient alternative to steel roll-up garage doors. They consist of two foam-filled slats and offer a higher level of insulation than a single-panel steel door.
Unlike steel doors, aluminum roller doors are inherently quieter to operate and in many cases easier to repair as the individual slats can be replaced.
Roller doors are a practical solution to difficult openings, as they are one of the most versatile products available. And because there is a wide range of colours and wood finishes, their appearance can be adapted to suit a wide variety of properties and tastes.
Glass garage doors
If you search the internet for "glass" you will see many garage doors, but many of them are actually made of acrylic or polycarbonate windows, mainly for weight and safety reasons.
It's not wise to have glass over your head in every situation, and if you do, there needs to be at least some type of safety glass.
Generally, the only garage doors that you can say are almost entirely glass or glass panels are either a sectional door or an overlapping door.
With a sectional door, a glazed panel is placed over a steel or aluminum frame, and the use of smoked glass gives the impression of fully glazed door sections.
You can also use real glass, but due to the weight of the glass and also for safety reasons, the size specifications are less. Single, double, or triple glazing is available.
Wooden garage doors
Wood is a beautiful natural material and you should always remember that pictures in brochures, on websites, or photos of wooden garage doors that you have seen and like may not always be reproduced exactly the same on another door. This is because the grain, knots and shading will vary from one door to another and will be more apparent in lighter coloured doors.
We can advise you on the most suitable door style, material and manufacturer. We have helped countless customers with custom garage doors and would love to help you too. Contact us today or visit our showroom to learn more.