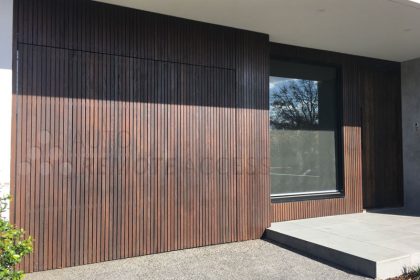 A residential garage door is a door on a garage that may be opened manually or with the help of an electric motor (garage door opener). Garage doors are available in several styles, designs, sizes, and colors for you to pick from.
They come in several different types of materials like steel or wood and may be insulated to prevent heat loss.
A modern custom garage door is the best way to improve curb appeal, safety for your family and home security.
There are numerous types of garage doors to choose from, now we take a look at the most common types.
Here garage doors are categorized according to how they open:
1- Sectional Garage Doors
Sectional garage doors are built from panel sections that are held together by joints. As the door opens and closes, rolls at the edge of every panel roll inside a vertical track on every side of the door opening. These doors are normally made from steel, are low maintenance, and can be customised. We at Araccess offer you the most extensive sectional panel lift garage doors in Melbourne.
2- Roll-up Garage Doors
Roll-up garage doors are more common garage doors in residential settings. The roller garage door begins rolling around a barrel above the garage door opening within the garage when you open it. They're ideal for small spaces with low ceilings. You can check our cost-effective roller garage doors and request a free quote.
3- Tilt-Up Garage Doors
Tilt-up garage doors, like side-hinged versions, are built of one single component rather than pieces. They may tilt up into the garage thanks to a rotating hinge system. When the garage door is open, it extends past the front of the house, running parallel to the garage ceiling.
Tilt-Up Retractable Garage Doors
Similar to the tilt-up canopy, tilt-up retractable garage doors lift up and into the garage. They are suspended from the frame separately so that they do not protrude above the house's front.
This configuration requires more space than overhead garage doors. While there are some homeowners who choose this type, they are more difficult to operate than other models and usually more expensive.
When choosing a new garage door, you should pay attention to the materials. This is because certain materials are better suited for the harsh weather, while other materials are more for looks than practicality.
Below are the most common garage door materials.
Wood Garage Doors
Wooden garage doors are charming and add a nice look to your home.
They look inviting and are sure to attract the eyes of the neighbours. However, you should keep in mind that wooden garage doors require more maintenance compared to other materials. Also, wooden garage doors are more expensive than other garage doors as they are more stylish and elegant. They need to be painted and stained every few years to maintain their beauty.
Aluminum Garage Doors & Steel Garage Doors
Aluminium garage doors are sturdy and can withstand wet weather.
Steel is durable, it requires less maintenance. Most importantly, they are energy efficient all year round. This lowers the cost of your energy bills and protects the items stored in your garage.
Steel is heavier than aluminium and wood. Fortunately, over time, manufacturers have combined steel with fibreglass, which can prevent the door from being too heavy.
You should keep in mind that a variety of materials are used to make garage doors, such as fibreglass, wood composites, glass, and others. They all have their advantages and disadvantages. But the items mentioned here are the most common types.
A premium residential garage door will not only work reliably and withstand almost all odds of nature, but it will also be an attractive addition to your home. Plus, we allow you to customise the look and feel of the door to match your individuality and style.
When you are ready to choose a new garage door for your home, the process begins with a consultation where experts take measurements and show you options. After considering all the options, you can choose the door that is perfect for your project.
At Araccess, we can help you find the best garage door for your home.