Infra-Red Photo Beam Cells (Sensors)
Araccess Infra Red Beam Cells (Sensors) is designed to increase safety on vehicles, children and even pets. The photo beam sensors are placed (one on each side) between the garage door/gates. During the operation, if the beam is interrupted/broken, the automation unit registers and reverses its operation, avoiding any collision resulting in damage.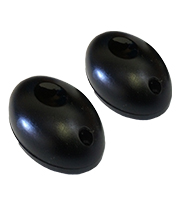 ARA Infra-Red Photo Beam Cells (Sensors)
The infra red sensors are devices used to put a single beam across a door way which when broken by an obstruction prevents any electric operator from working. They have been around for years and are used in many different types of doors, especially commercially in public places.
For a roller garage door where extra safety might be required, for example if it is near a busy public path, or if you have a small children, then an infra red beam, correctly positioned, adds an extra element of safety in prevention of door closure when the beam is obstructed.
Features include:
Detection Range: 15 meters (Range will be reduced to 30% in bad weather condition like fog, rain, dust, etc.)
IR Frequency: 1.92Khz
Power Supply: DC/AC 12 to 24V
Wave Length: 940nm
Input: RX 15mA~TX 30mA
Working Temperature: -10°C to 70°C
Relay Output: 1A 36V max.
Sensor Angle: less than +/-10°
Color: Black
Housing Material: Plastic
Shape: Half Egg
Size: 49.2 x 76 x 21.6 mm